By Matthew Santamaria (msantamaria@hdsa.org)
Iowa resident Holly Jensen has known about Huntington's disease (HD) her entire life.
HD is a fatal genetic disorder that causes the progressive breakdown of nerve cells in the brain. It usually deteriorates a person's physical and mental abilities during their prime working years and has no cure.
Her father had five siblings and were a close-knit family.
"My dad and siblings were very close and I don't remember a time they got together that didn't involve smiles, laughs, and jokes," said Holly.
Four out of the five siblings tested positive for the gene that causes HD.
"A lot of what I remember about them is when they were sick but those aren't the pieces I carry with me when I think about them," Holly explains.
At a young age, Holly remembers the symptoms of her aunt and uncles. The symptoms of Huntington's disease are described as having ALS, Parkinson's and Alzheimer's – simultaneously. Symptoms include personality changes, mood swings, depression, impaired judgement, involuntary movements, slurred speech, difficulty in swallowing, and significant weight loss.
"I remember my aunt always tickling us and my uncles always teasing us sometimes to the point we were so frustrated we would cry, but we all loved and cherished every minute of time spent together because we all knew how very precious it was," said Holly.
In 1999, Holly's world was turning upside down. She was only seven-years-old when her father tested positive for the gene that causes HD. Holly and her sisters (Whitney, Kayla, and Cheyenne) would soon learn that each child of a parent with HD has a 50/50 chance of inheriting the faulty gene that causes Huntington's disease.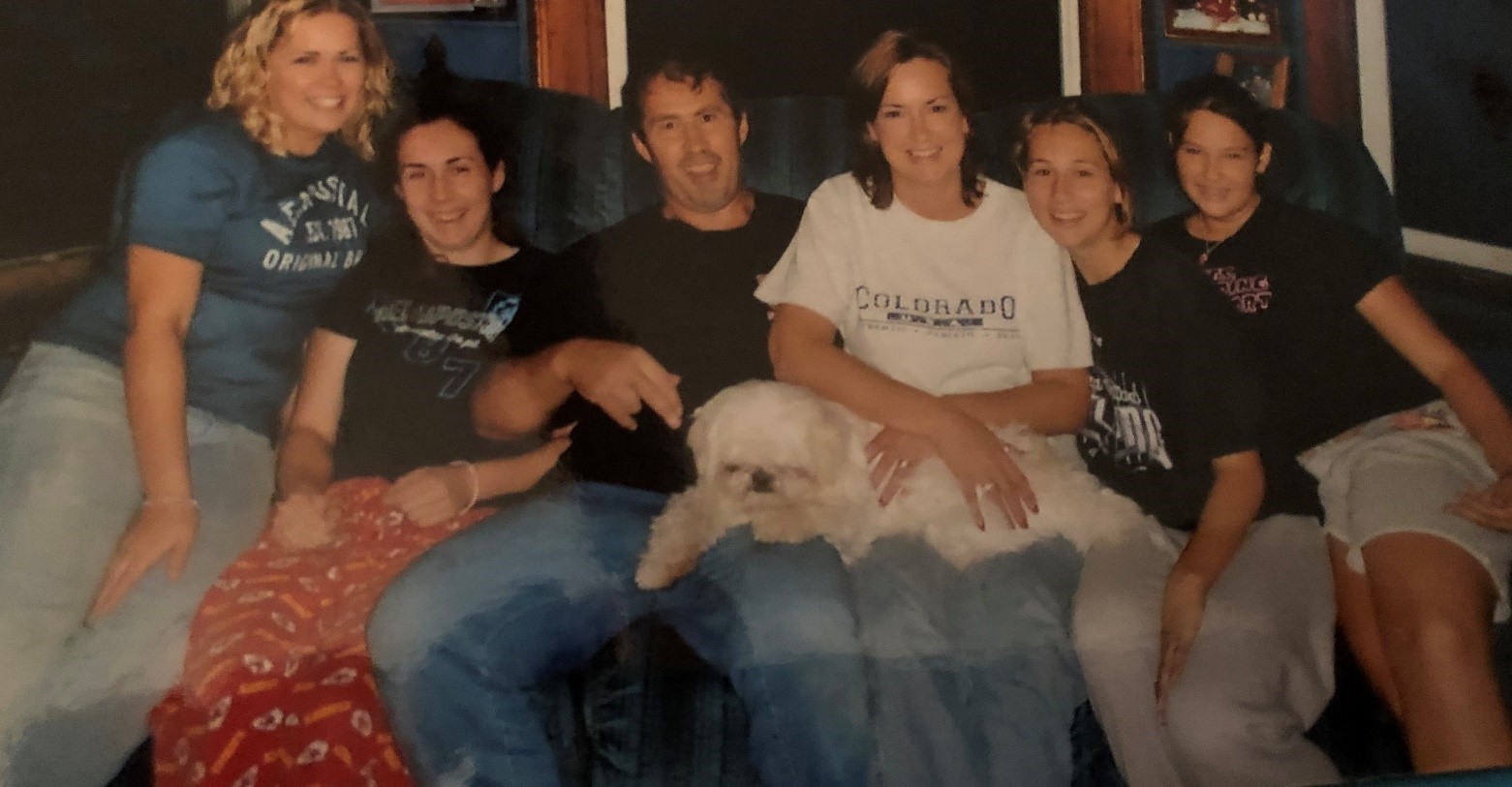 "This is when we began to witness the disease from start to finish," Holly explains. "We had heard our mom and dad get phone calls from his frustrated siblings, venting of the struggles of care taking, but this was the start of so much more. This was the start of watching dad be robbed of his ability to speak, swallow, walk, reason, and everything else HD takes away."
Holly and her sisters would see first-hand the symptoms take over her father's life. At the time, her father was a truck driver of a local construction company. Due to the symptoms of HD, he was unable to drive and would result in him leaving his job.
"Not being able to work anymore meant him not being able to provide for my mom and us four girls," said Holly. "It took his freedom, stability and his ability to think clearly. We watched it take his patience, pride, and dignity. Eventually it took the use of his legs, his way of speech and ability to eat. Every little thing we take for granted on a daily basis was gone."
When her father did not have appointments, the family would spend a lot of their time at the
University of Iowa
. This is one of the 50 HDSA Centers of Excellence that provide an elite team approach to HD care and research. Professionals have extensive experience working with families affected by HD and work together to provide families the best HD care program.
"We have all participated in countless amounts of surveys, cognitive testing, spent hours trying to stay as still as possible in MRI machines and most recently got spinal taps to collect research data hoping to help find a cure," Holly explains. "We love to be involved and make ourselves available to participate in every study available to us."
This would soon lead to the sisters getting tested for the gene that causes HD. Whitney, oldest sister, was the first one to be tested. At the time, she was twenty-years-old and was engaged to be married. Whitney had thoughts about starting a family of her own and wanted to know if she has the chance of passing the gene to her children.
The decision to get genetically tested is difficult to make. Each year, 5-10% are tested. It is never the right or wrong decision to be tested. There are people that see no benefit in knowing that they will develop the disease while others want to know in order to make informed choices about their future. It can take up to several weeks to receive your results from the genetic testing center.
Whitney tested positive for HD.
"It came as a shock to us all, me especially," said Holly. "I think because I couldn't see any symptoms I kind of still had the mindset that it would never happen to her. Boy, was I wrong. The news hit me like a brick to the forehead."
It would be soon enough that the family would see symptoms from the second oldest child, Kayla. She had stiffness in her body, clumsiness, and mental symptoms of HD. Her mother confronted her of the symptoms and Kayla agreed. Young Kayla tested positive for the gene that causes Juvenile Onset Huntington's disease (HD). This is a more progressive form of HD that affects children and teenagers.
"It was awful to have to watch the sister I connected most with slowly painfully taken from me," Holly explains. "I watched the disease take her "normal" life and twist it. She got into a bad car wreck and had to be life-lighted to a hospital. After this accident, she was scared to drive so we didn't much have to talk her out of giving up her license. It felt like she was being robbed of her own freedom. She started being effected psychologically, and thinking people were talking about her or trying to kill her."
In 2009, on Holly's eighteenth birthday, she decided to be tested for HD. Holly taught herself to hope for the best and prepare for the worse. She wanted to get tested because she just wanted a sense of relief with knowing if she has it or not. Holly tested positive for the gene that causes HD.
"What I've learned about myself through all this is realizing that I'm very uncomfortable with the unknown, so I find peace in knowing the things I can," said Holly. "Hearing my positive test results sucked but I think I can speak for many people when I say hearing your own results hurts less than hearing your loved ones."
In 2010, her father's conditioning was worsening and the family decided to put him into a nursing home. He did not make it hard for the family as they felt this was the best decision for the family. However, it would grief would continue for the family as Holly's mother was diagnosed with incurable colon cancer.
In 2011, Kayla was becoming unsafe to live with. She was only 25-years-old when the family decided to put her in a nursing home.
"She was still a young adult and had to go live in a place with old/sick people and she was not ok with it, understandably so," Holly explains. "This was easily one of the hardest things we all had to do, and she would text us how miserable she was. We tried to visit often, always taking her and my dad ice cream shakes and making sure Kayla was always stocked up with Mike's hard lemonade and Dr. Pepper, all her favorites."
Between 2012 and 2015, Kayla, Holly's mother and father passed away.
"To say these three years were rock bottom for us would be the greatest understatement," said Holly. "It took a couple years but we were pulling through. Leaning more on each other when things got harder and felt more unbearable. We got closer and pulled up stronger together. Stronger than the depths of depression pulling at our ankles like quicksand, stronger than the aches and pains of watching our loved ones suffer and die pulling at our heart strings. Stronger than HD."
Holly, Whitney, and Cheyenne wanted to restore hope that HD will be a thing of the past. They planned to attend the 33rd Annual HDSA National Convention in Los Angeles. However, another blow to the family happened. In May of 2018, Cheyenne was diagnosed with Acute Myeloid Leukemia which resulted in a month-long hospital stay as Cheyenne were unable to attend. In 2019, all three sisters attended the 34th Annual HDSA National Convention in Boston.
​
"I'm a strong believer that everything happens for a reason," Holly explains. "We found comfort, love, family and a place of belonging with people we hardly knew yet. We had already felt so close because we had similar stories and one thing in common, HD. At convention, we found so much new and needed hope. Whitney and I decided the first night we would never miss another Convention and this year we returned to Convention in Boston taking Cheyenne, who was in full remission and Whitney's daughter who has also started to make lasting relationships with kids her own age who she can directly relate to."
Whitney has a message for the HD Community:
"Hold on to Hope. Life is tough, life with HD can be even tougher. We've been at the end of our "hope ropes" and we will be the first ones to tell you it's not always easy, but it's ALWAYS worth it. Keep hope for your loved ones, keep hope for a cure, and keep hope for the ones who can't, but mostly keep hope for yourself because only you can keep you going."

"Life may not be good and you may be having a crap day, week, or even a crappy few years. The good thing could simply be a smile from a stranger walking by, the priceless sounds of laughter from the children you love, the warmth of a hug from someone you know loves you dearly, or it could be the result of a bad joke that was so stupid it was funny. Cherish every moment of every good day and feeling you have."
###
Huntington's disease is a fatal genetic disorder that causes the progressive breakdown of nerve cells in the brain. It deteriorates a person's physical and mental abilities usually during their prime working years and has no cure. Every child of a parent with HD has a 50/50 chance of inheriting the faulty gene that causes Huntington's disease. Today, there are approximately 41,000 symptomatic Americans and 200,000 at-risk of inheriting the disease. In less than 10% of cases, juvenile Huntington's disease (JHD) affects children & adolescents. JHD usually has a more rapid progression rate than adult onset HD; the earlier the onset, the faster JHD progresses. HD is described as having ALS, Parkinson's and Alzheimer's diseases – simultaneously. HD is characterized by a triad of symptoms, including progressive motor dysfunction, behavioral disturbance and cognitive decline.
The Huntington's Disease Society of America is the premier nonprofit organization dedicated to improving the lives of everyone affected by HD. From community services and education to advocacy and research, HDSA is the world's leader in providing help for today and hope for tomorrow for people with HD and their families.
To learn more about Huntington's disease and the work of the Huntington's Disease Society of America, visit www.HDSA.org or call 1(800)345-HDSA.
This is a story featuring a personal experience with Huntington's disease. If you would like to have your story told please contact Matthew Santamaria at msantamaria@hdsa.org